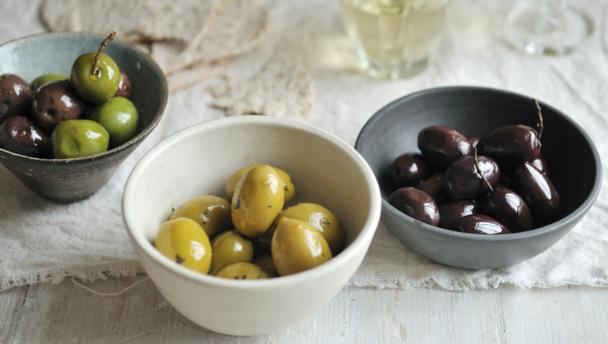 I don't know when I developed a love for olives.
I didn't grow up with them in the house, ever. And this is kind of surprising because in my youth, my mother was a salt
aficionado. Since then she has more of an eye on health, but back then I am surprised she wasn't a fan. So I think I must have picked it up from working in restaurants.
As a chef, there are certain foods you HAVE to like...olives,truffles,saffron..get the picture?? Nothing much is said, but your palate is considered green, not worthy of truly being called a chef if you eschew these kinds of
ingredients. SO anyways, I dont remember when or how, all I know is I now love olives.
The only difference between green olives and black olives is ripeness. Unripe olives are green, whereas fully ripe olives are black. And
black olives contain more oil than green.
So tonights dinner was rife with Olives :)
What we are seeing there is Roast breast of chicken, bathed in tapenade, 5 grain rice pilaf, tabbouleh salad with olives and Israeli cous cous and Spinach salad with an olive oil honey mustard dressing.
See what I like about this is, not only beautiful, delicious and filling, but really healthy, too! Im totally digging tapenade lately. And I know most of you dont want to go through the bother to make it, so I'll let you in on a little secret....
"Irresistables" Black Olive Tapenade
Food Basics house brand
This is the house brand of Food Basics grocery store. Surprising, I know. Its such a shabby grocery store. But I swear on a stack of Kalamatas that I have tried the President Choice tapenade, and it pales in comparison.
For those brave souls who love to experiment. I'll give you the recipe I have used for years, a sweet french line cook taught me at Auberge du Pommier, when I was still an apprentice.
Olive Tapenade
1 cup black olives, pitted

1 cup small green (PreferablyFrench) olives

1/4 cup Sun dried tomatoes

1 tablespoon capers

1 garlic clove

1 anchovy fillet

1/2 tablespoon chopped fresh basil leaves

1/2 tablespoon chopped fresh thyme leaves

1/2 tablespoon chopped fresh flat-leaf parsley leaves

1/4 tablespoon chopped fresh oregano leaves

1/4 cup extra-virgin olive oil






Toss it all in a food processor, add a touch of pepper, and off you go.